Season's greetings and a Happy New Year 2015!
Details

Created: Saturday, 20 December 2014 18:11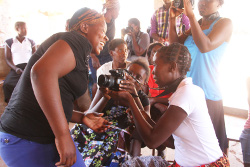 We are sending Season's greetings and wish a Happy New Year 2015 to all our valued friends, partners, wellwishers and funders. Thank you for your tremendous support and collaboration throughout the year. We wish you Peace, Hope and Progress in 2015.
Peter Kuthan, on behalf of Austria-Zimbabwe Friendship Association AZFA / Linz
I am happy to anounce that the Kunzwana # 1 documentary CD is about to be released. It covers a selection of the best recordings of Kunzwana # 1 live concerts on tour in Southern Africa in May and in Austria in July this year.
This cultural exchange started in the Tonga area with an impressive encounter with Simonga Ngoma Buntibe in Siachilaba. A joint workshop thereafter has been highlighting the very meaning and vision of Kunzwana: listening, hearing and understanding one another." (Keith Goddard).

The documentary CD is dedicated to remember and honour both key figures in this ongoing cultural exchange, Keith Goddard and Paul Brickhill. At the same time we are proud to highlight another achievement in our collaboration with Pamberi Trust. Our joint Kunzwana project has proofed to be most relevant and will hopefully spark further ideas and collaborations.

Penny Yon and Ian White, our partners and collaborators at Pamberi Trust just wrote: "What a wonderful conclusion to Kunzwana #1 - the cover is great and we look forward to receiving and having the chance to listen carefully and enjoy! Thanks Werner for great photography and design work throughout. Thank you for the dedication to Paul Brickhill as well as Keith Goddard.."

This documentary CD production is not a commercial one. It will foremost serve the purpose of promoting our ongoing cultural exchange in general and the musicians involved. Any contributions and donations received beyond covering costs will be ploughed back into further cultural exchange activities.
Tales of Resilience is a collaborative storytelling project by Austrian and Zimbabwean artists. The starting point has been a photography workshop for the women at Siachilaba village in Binga area / Zimbabwe. It was conducted by the photographers Annie Mpalume and Calvin Dondo from Harare in November 2013 with a follow up workshop in April 2014. They have been joined by three Austrian artists from Time's Up embarking on an extensive cultural exchange which has been highlighting the cultural resilience of the Tonga people.The documented and narrated outcome of this collaboration between Time's Up, Austria-Zimbabwe Friendship Association, Pamberi Trust, local artists and art institutions has been presented at the National Gallery of Zimbabwe in May, at Musikforum Viktring/Klagenfurt in July and at Afropea Now festival in Linz / Austria in September.
read more: http://talesofresilience.wordpress.com/2014/04/19/twalumba-danke/

there is another chance to p/review our ongoing cultural exchange with Zimbabwe in collaboration with Time's Up on 8th January 2015 in Linz:

RE/CALLING SIACHILABA

with a presentation of our KUNZWANA # 1 DOCUMENTARY CD. KUNZWANA # 1 has been a trans-cultural collaboration of both, musical storytelling and freely improvised music, in an exciting encounter of outstanding musicians from Austria, France and Zimbabwe. Like a musical journey it has unfolded across the Southern African region in April/May 2014 and culminated in highly acclaimed performances at some major festivals in Austria in July.

Place: Linz, AT
Site: Time's Up Laboratories / indoors
Date: 08.01.2015
Time: 18:00

http://www.timesup.org/recall