Welcome to Basilwizi – 'People of the Great River'
Details

Created: Thursday, 05 May 2011 07:01
The Book Café, Thu 12 May, 5.30pm
The Mannenberg, Fri 13 May, 6pm
This May at the Book Café and Mannenberg in Harare, arts development organisation Pamberi Trust will host two fascinating events highlighting Tonga culture in Zimbabwe.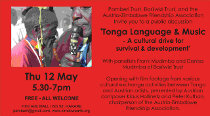 Thursday 12 May presents a panel discussion on 'Tonga Language and Music - A cultural drive for survival and development'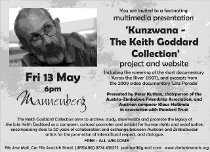 followed on Friday 13 May by a multimedia presentation 'Kunzwana - The Keith Goddard Collection' Project, which documents some of the work by the late great Zimbabwean composer with Tonga musicians and other communities.
The People of the Great River
The Tonga people who inhabit the areas in the Zambezi Valley on Zimbabwe's northern border, are descended from those who were forcibly removed from their homes and fields in the valley in 1957 to make way for the rising waters of the mighty Zambezi River after the filling of Kariba Dam. The dam brought hydro-electric power and wealth to the country, but passed over those who were displaced, leaving them in the dark ages of exclusion for some decades after. Having lost everything their culture survived strongly as a driving force of self-assertion, resilience and development.
In 1995 Kunzwana Trust under Keith Goddard, composer, cultural and human rights activist, explored the Binga area to seek out the ngoma buntibe music of the Tonga.  In partnership with the Austria-Zimbabwe Friendship Association led by Peter Kuthan, the discovery led to national and international exposure of the fascinating music culture and rich cultural exchange with Austrian musicians, culminating in the powerful Tonga.Online IT4D (information technology for development) project in the Binga District  (see www.mulonga.net).

Sadly, Keith Goddard passed away in October 2009, but he left a rich legacy of projects and achievements in the cultural and civil society field.  After his death, the Tonga.Online project was taken over by Basilwizi Trust which now manages its operation in Binga, and Pamberi Trust adopted the 'Kunzwana project' for inclusion of Tonga music and other Zimbabwean music cultures for development and exposure.


Harare Events

On Thu 12 May, 5.30-7pm, the Tonga Language and Music discussion at Book Café welcomes speakers Frank Mudimba and Danisa Mudimba of Basilwizi Trust, opening with film footage from various cultural exchange activities between the Tonga and Austrian artists, presented by Austrian composer Klaus Hollinetz who has been involved in these projects with Keith Goddard and Kunzwana Trust since 1997.

Basilwizi Trust is a community development organization founded in 2002 by the local people of the Zambezi valley in the north-western part of Zimbabwe, as a demonstration of concern and determination by Zambezi valley communities to demand and restore their dignity taken away from them by the displacement from the Zambezi River banks.  Poverty, the main cause of vulnerability to food insecurity, is one of the defining features of the Zambezi valley, which districts rank least on the Zimbabwe development index and yet they have great potential to be better from the vast natural resources found in the region.  Basilwizi works to assist the communities of Binga, Gokwe north, Hwange and Nyaminyami administrative districts to realize their own development and emancipation from extreme poverty through community led interventions (see www.basilwizi.org).

On Fri 13 May, 6pm the Multimedia presentation 'Kunzwana - The Keith Goddard Collection' project and website will be made by Klaus Hollinetz and Peter Kuthan, chairperson of the Austria-Zimbabwe Friendship Association, which includes the screening of the short documentary 'Across the River' by Austrian filmmaker Michael Pilz  in 1997, and excerpts from the 2009 video documentary 'Linz Parade'.

The Keith Goddard Collection aims to archive, study, disseminate and promote the legacy of the late Keith Goddard as a composer, cultural promoter and activist for human rights and social justice.  The collection encompasses close to twenty years of collaboration and exchange between Austrian and Zimbabwean artists for the promotion of intercultural respect, and dialogue.  The collection establishes a resource base of information about the vision and the context, the approach and methodology of this cultural exchange as an inspiration for further artistic collaborations.

Klaus Hollinetz is an Austrian composer of electro-acoustic music who has participated in concerts, sound installations and broadcasts in Europe, America and Africa. He is a lecturer at the University of Music and Performing Arts in Graz / Austria and has been involved in collaborations with various artists in Zimbabwe and Mocambique.  He held workshops on music and computer for the Tonga.Online ICT4D project in Binga and worked with Keith Goddard on 'The Monolith' composition and 'Wounded Earth' sound installation.

The two events on 12 and 13 May are a cooperation between Pamberi Trust in Harare, Basilwizi Trust in Bulawayo, and the Austria-Zimbabwe Friendship Association in Linz, Austria, supported by the Austrian Embassy in Harare and Austrian Development Cooperation. 

Both events are free, and all people are welcome.

Margaret Ling, Chairperson of the Britain Zimbabwe Society said "The campaigns and endeavours to which Keith devoted his life always expressed what to me is the essence of Zimbabwe - creativity, spirituality, diversity, tolerance, love and human kindness.  May his soul rest in peace, and his memory inspire us to continue to strive for his vision of a different and better world".


By Penny Yon
Arts Administrator
Pamberi Trust