Pottar Muzamba
Details

Created: Sunday, 14 January 2007 12:25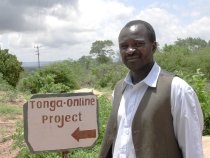 Previous Employers:
Binga Rural District Council
Catholic Development Commission (CADEC)

Experiences.
Project planning, implementation,monitoring and evaluation.
Policy formulation and implementation.
Training management.
Lobby and advocacy work.
Personnel management.
Financial management.
Community mobilisation.

During my tenure of office with tonga.online Project, I promise the community to:-


Lead, direct and coordinate the tonga.online project activities in order to achieve the goal, vision and mission of the project.
Develop sound assets and financial management systems to facilitate proper management of  the project.
Facilitate quality system delivery and sustainable management of ITCs.
Create a conducive environment for both the staff and the community to foster the unity of purpose and efficient service delivery.
Facilitate the production of user friendly literature for the capacity building purposes of the communities.
Observe and adhere to the existing policies and laws.
Promote and conserve the culture.

Contact details
tonga.online Project.
P. O. Box 47
Binga
Zimbabwe

Telephone: +263 -15- 573 (Business Hours)
Email address: This email address is being protected from spambots. You need JavaScript enabled to view it. /This email address is being protected from spambots. You need JavaScript enabled to view it.