Sengamo Ndlovu
Details

Created: Thursday, 01 March 2001 00:00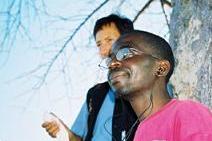 Music and geography teacher.
Music peripatetic teacher covering Binga, Sinansengwe, Siabuwa and Tyunga clusters in Binga District.
Completed a 7-week on-line professional development course in integrating information technologies for the teaching of geography.
I am the third child in a family of five children - only son.
I have two children; The girl, Nolwazi, Tapelo who is the first born is three years and the boy Mongameli, Kgotso is just over nine months old. My wife, Nonhlanhla is at college doing her final year as a student teacher specialising in French and English.
My interests are diverse and I spend my spare time listening to music, exploring the internet for music freeware / shareware and geography resources, creating and playing music, putting together anything that needs to be put together, corresponding with friends online. I also enjoy sports such as volleyball, rugby, cricket, tennis and football among others. I am currently trying to find resources to do simple recording, editing, sequencing etc of music using computers with the aim of making it possible for musicians within Binga to have access to some music recording facility without incurring high transport costs.
other Activities: Binga Aids Committee vice chairman and Assisting aids orphans in the Manjolo-siangwemu area in Binga as choir master on a project being run by Ntengwe to release a CD with Oliver Mutukudzi.
This email address is being protected from spambots. You need JavaScript enabled to view it.