KUNZWANA TRUST Revival & the Arts Factory project
Details

Created: Friday, 20 August 2021 13:46
THE REVIVAL BEGINS with THE ARTS FACTORY project, kick starting the 'factory' in support of arts development in Zimbabwe in 2021, with a grant from the Culture Fund of Zimbabwe Trust's CreativeACTIONS programme, co-funded by the European Union.The Arts Factory services offer a ray of hope at a time when artists of Zimbabwe who - already struggling for economic survival, crippled by the Covid-19 pandemic and with careers in jeopardy - need to envision, plan and prepare for a post-Covid-19 recovery. KUNZWANA TRUST Press Release: Immediate release 13.8.2021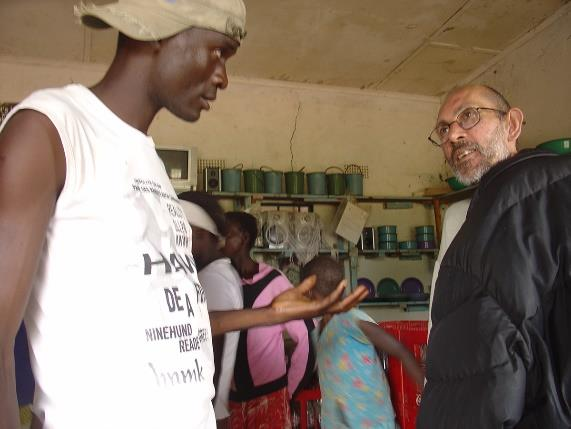 The late Keith Goddard in discussion with a musician at Siachilaba Store, Binga, 2008 (Photo: P Kuthan)
KUNZWANA TRUST was established in 1987 as a non-profit-making organisation which
fosters the practice and study of indigenous musics in Zimbabwe through the promotion of
the work of performing artists and instrument-makers for fair reward.
The name KUNZWANA comes from the Shona verb nzw(an)a - listening, hearing and
understanding one another.

Originally directed by the renowned musician, composer and activist, the late Keith Goddard, Kunzwana has worked with many Zimbabwean artists over the years, including some who have achieved acclaim and reached audiences widely in the world - Black Umfolosi, Oliver Mtukudzi, revered Mbira players Simon Mashoko and Beaular Dyoko, along with artists from Mozambique
and South Africa.
In the early nineties Kunzwana focused on a cultural exchange programme with the Austria-
Zimbabwe Friendship Association and long-time partner Peter Kuthan, in which Zimbabwean and Austrian musicians and composers have collaborated and toured. The exchanges included the tour to Austria of 28 musicians of the Tonga ngoma buntibe group 'Simonga' of Binga, promoting this marginalised music culture to the world stage in the 1997 Nyaminyami Festival: A Celebration of Valley Tonga Culture, which evolved into cultural tourism and IT projects in the years thereafter, and a second Austrian tour in 2009; and in 2014 the Kunzwana #1 collaboration between Hope Masike, Josh Meck, Blessing Chimanga, Othnell 'Mangoma' Moyo and European artists, which was first staged at the Harare Festival of the Arts and later toured to South Africa and Austria.
After the sad death of Goddard there was a hiatus in operations, but now the revival of Kunzwana Trust is being headed by trustees Debbie Metcalfe and Penny Yon, along with Ian White - all 'veterans' who have worked with hundreds of Zimbabwean artists in building and supporting the arts in Zimbabwe over decades; a wealth of experience and a proud legacy.
THE REVIVAL BEGINS with THE ARTS FACTORY project, kick starting the 'factory' in support of arts development in Zimbabwe in 2021, with a grant from the Culture Fund of Zimbabwe Trust's CreativeACTIONS programme, co-funded by the European Union.The Arts Factory services offer a ray of hope at a time when artists of Zimbabwe who - already struggling for economic survival, crippled by the Covid-19 pandemic and with careers in jeopardy - need to envision, plan and prepare for a post-Covid-19 recovery.
The Arts Factory invites artists and cultural practitioners to apply for assistance in "that particular thing that will help to boost your career", such as a graphic design, a press release, to develop a professional artist profile; help towards a stronger social media presence, or access to technical production facilities and product marketing. Workshops are also planned to help artists towards mastery in the new digital space.
To apply for Arts Factory assistance, artists and practitioners are invited to email Kunzwana
by the end of Monday 23 August, with a short (5 lines) description of what help they need
and a short (5 lines) reason why. Email to This email address is being protected from spambots. You need JavaScript enabled to view it..
This service is made possible thanks to the CreativeACTIONS project with the support of the
Culture Fund of Zimbabwe and the European Union Delegation to Zimbabwe.
ENDS
Kunzwana Trust
0772 394 394
This email address is being protected from spambots. You need JavaScript enabled to view it.
This email address is being protected from spambots. You need JavaScript enabled to view it.
www.facebook.com/kunzwana.trust
www.kunzwana.net