Tales of Resilience: a track record along the artists travelogue
Details

Created: Friday, 12 September 2014 15:19
compiled using quotes by Time's Up artist Tina Auer from the blog: talesofresilience

First of all have a look at some amazing pictures taken at the photography workshop for and by Siachilaba women in April 2014 under the guidance of two artists from Harare, Calvin Dondo and Nancy Mpalume:
flickr
and read more details about the Siachilaba workshop
talesofresilience-beware-of-hippos-at-night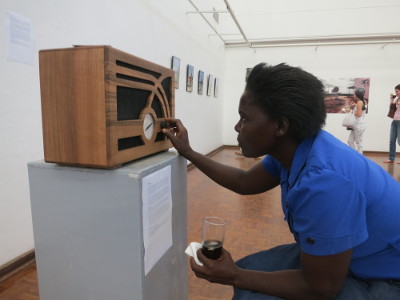 Margaret Moombe listening to her tales at NGZ
1st step thereafter: Official Opening "Tales Of Resilience" at National Gallery in Harare
Posted on 02/05/2014   

After weeks of designing, building and programming, further weeks of travel, interviews, learning about Zimbabwean history and culture, about the Tonga, the Ndebeli, the Shona and the interrelations between them and the other 13 cultures existing in Zimbabwe, hearing stories about survival, the mundane, the spiritual and the practical, after all these new ideas and influences, we reach the crux of the matter: the opening of the exhibition - photographs taken by the Siachilaba women workshop and the "photo/radio" interface installation - at the prestigious National Gallery of Zimbabwe in Harare.

...After introductions and speeches by the Australian Ambassador and the Austrian Honorary Consul, the guest of honor, Penny Yon from the Book Cafe and Pamberi Trust, helped to put the exhibition into a larger context of cooperation and resilience over the past decades. (She has been assisted by the delegation of Siachilaba Women Photographers Association which was formed during the workshop).

It has been an honor to be welcomed by this spectrum of people, from the self-titled "peasant farmers" through theatre people, miners, the homeless, musicians, artists and other experts of every day life. We look forward to our "next time" in Zimbabwe.

Almost ready for "follow ups" in Austria
Posted on 16/06/2014

We left the "original" radio-set, the piece of hardware, enabling the interfacing with "Tales Of Resilience" behind. Left it in Zimbabwe. Filled with all these great stories people told us while we have been traveling through the country. We left it with the National Gallery of Zimbabwe. Accessible for all visitors. Since there will be further occasions to present "Tales of Resilience" as well as it is a project in progress, meaning there will be additional stories collected and integrated...

Tales of Resilience – Distribution in Austria about to start
Posted on 21/06/2014    

Realizing that one and a half month have already passed since we are back form Zimbabwe seems just not right. Sometimes it feels a bit like as we just left Harare a day ago.. at other moments it feels way back in time…

Anyhow, in a few weeks we will have the chance to "go back" to Zimbabwe in a way. Whereby not in a geographical, us traveling, sense, though. No, it will be Zimbabwe coming to see, to visit us. It will be the "Austrian" part of the Kunzwana #1 project which is making this possible.

There has always been the plan, even a schedule, on "follow ups" in Europe. Now it's about time. All Zimbabwean musicians participating in the Kunzwana #1 project are coming to perform (together with the Austrian/French part of them) in Austria. Performance places and dates can be found at the Kunzwana #1 project page.

Mostly we look forward seeing all these people again, refreshing our wonderful memories, rather likely even indulge in them… as well as we look forward to share and distribute all stories collected whilst being in Zimbabwe. Even those ones, recorded last minute in Harare, not being included in the exhibition there. It will be during the Musikforum Viktring Festival where we will share the stories for a longer period of time (8th-28th of July). Right after we have them presented them in our own laboratories on July, 6th. That very evening, Hope Masike and special guests, presented by The Empress Club, will perform in our lab in Linz as well!

Zimbabwean artists & musicians in Austria
Posted on 07/07/2014

While some of us have been still "Future Fabulating" in Portugal, others amongst us welcomed Calvin Dondo into our labs here in Linz. As Calvin was in Brussels to launch his current book: Hodhii Zimbabwe, it was rather clear, to take this chance to see him again after spending time and doing work together in Siachilaba and Harare earlier in the year.
Calvins arrival can be seen as the official (in terms of "getting public") start of "Tales of Resilience" in Austria. Only days later we had the pleasure to host Hope Masike (vocals, mbira) Josh Meck (guitar, bass), Blessing 'Bled' Chimanga (drums) and Orthnell 'Mangoma' Moyo (percussion). The event was organised by the Empress Club in cooperation with ARGEzim / AZFA. The highly impressive concert by these four musicians – right at the waterfront – got enriched through a short first "Austrian-Kunzwana#1 kick off". Isabelle Duthoit (voice & clarinet), Franz Hautzinger (quarter tone) and Werner Puntigam (trombone, conch shell) joined and we had the chance of getting a first glimpse of what will be continued over the next weeks throughout Austria.
Tales of Resilience Exhibition @ Musikforum Viktring / Klagenfurt
Posted on 10/07/2014

It seems like an eternity, but it is only two months since we returned from our visit to Zimbabwe. The time between had taken us to many other places, both physically and mentally, but once the recordings of our interviews started playing, it dragged us back to where we had been a few weeks ago. The voices of our interviewees, the clapping and singing of the women's lamentation and celebration songs, the background sounds of cows etc; it captured so many aspects of our visit.

The Tales of Resilience radio (second version) has been re-worked, new interviews that we made in the days in Harare, after the exhibition had been installed there, were added. A day of frantic re-programming, electronic fine-tuning, process refinement and then a leap into the car. We drove to Klagenfurt with Calvin Dondo, our collaborator, guest and friend from Harare, who was going to look after the photographic images that emerged from the Siachilaba workshop. Although the Austrian alps are high, it turns out that Calvin lives higher than the highest point we reached: Harare lies at 1500 meters, a cool outpost in the not so low hills of Zimbabwe.

The exhibition set up was relatively easy, the opening a simple process. The performance of Kunzwana #1 was an interesting development from their premiere at the HIFA festival in Harare. Now the radio accompanies each evening of the festival, we hope that visitors are enjoying the Tales of Resilience.

Latest update: Tales of Resilience, a collection of gathered stories, fed by experience, vision and Weltanschauung, by desire, happiness and concern. Told and visualized by people we met, talked to, celebrated with during our stay in Zimbabwe earlier this year will be exhibited during the multi-day festival "TREFFPUNKT AFRIKA - AFROPEA NOW" @ Stadtwerkstatt Linz from 25 - 27th September.